Batteries For Cars, SUVs , Tractors and Trucks
Looking to change the old battery of your vehicle?
Battery is the life of your vehicle. India is known for its rugged terrain and diverse weather conditions, which require a durable battery for your vehicle to move with ease under all circumstances. We offer the best brands in Batteries.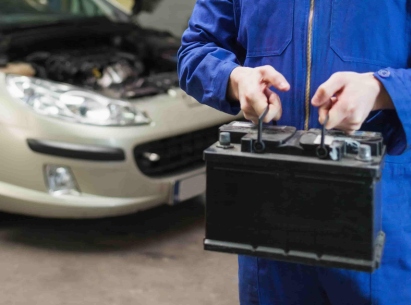 United Auto Centre is a multi-brand Battery Store. We offer 100% genuine batteries with manufacturer warranty. We have the complete range of Automotive Batteries including Car Batteries, SUV Batteries, Truck Batteries, and Motorcycle Batteries. United Auto Centre is authorized dealers for Exide Batteries. Other brands available with us are Amaron and Livguard.
We sell offers a wide range of affordable, low maintenance and long lasting car batteries that are best for Cars, SUVs and MUVs which are 100% genuine batteries, backed by manufacturers warranties and promise of our after sales service assistance and best price.
The day your car won't start isn't the best time to shop for a new car battery. But according to our research, that's exactly what most people do. All vehicle batteries should be inspected at least once a year, more frequently if the batteries in more than 2 years old. A free car battery checkup is available at our showroom on all working days (Tuesday to Sunday). Bring in your vehicle and we will check your vehicle's battery and electrical system absolutely Free of Cost. Batteries come in a variety of sizes. It's important to choose the right one to ensure that it fits securely and provides sufficient power. If you are unsure of the right battery for your vehicle, contact us and we will guide you in choosing the best battery for your vehicle.
We have a home delivery facility available and we deliver/install the batteries at your door step. Home Delivery Service is available within Chandigarh and Panchkula. We have Cash-on-Delivery service for Chandigarh and Panchkula.
Call us at 0172 273 7453 to find the right battery for your Car, Truck or Motorcycle or contact us for a quote or more details.